500+ Doctors & Registerd Nurses

Over 200 clinics globally

Complimentary consultations

Skin tailored to you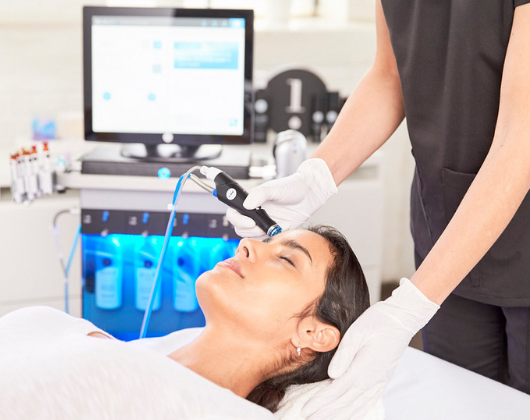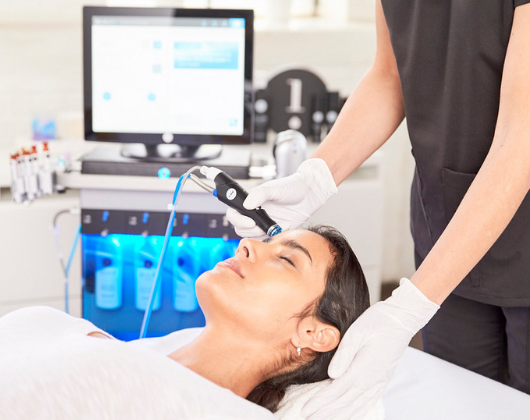 About HydraFacial
HydraFacial is an amazing technology that delivers the results of an advanced facial in under 30 minutes. Designed to cleanse, extract and hydrate, this effective treatment can help improve the appearance of;
Fine lines & wrinkles
Elasticity & firmness
Skin texture
Enlarged pores
Skin tone and vibrancy
Oily & congested skin
HydraFacial uses advanced, patented vortex technology to deeply cleanse the skin and effectively deliver botanical ingredients containing nutrients such as hyaluronic acid, horse chestnut seed extract, red algae extract, copper, zinc, and magnesium peptides to where they do the best.
In addition, HydraFacial also delivers powerful antioxidants to counteract damage by free radicals – from pollution, sun, and stress – which can degrade the skin and accelerate the ageing process.


Softens Fine Lines & Wrinkles


Improves Skin Elasticity & Firmness


Evens Skin Tone & Vibrancy


Smoothes Skin Texture


Reduces Pigmentation & Pore Size


Cleanses Oily & Congested Skin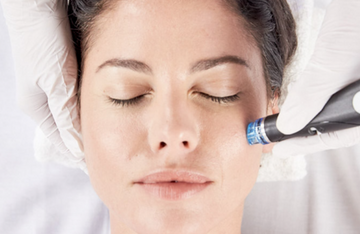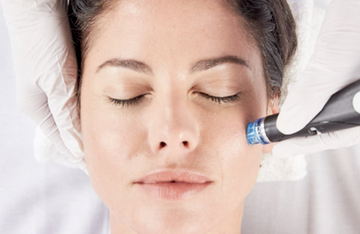 The HydraFacial Signature (Express) treatment deeply cleanses, peels, extracts, and hydrates the skin utilising super serums filled with antioxidants and hyaluronic acid. This treatment will give an instant glow to your skin.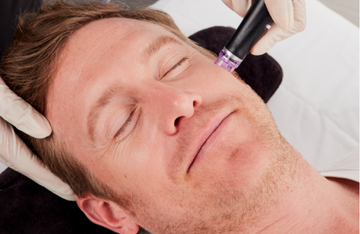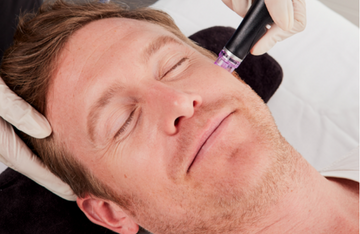 The HydraFacial Deluxe Treatment begins with a detoxification process through Lymphatic Therapy. Then deeply cleanses, extracts and hydrates the skin. This treatment concludes with LED Light Therapy.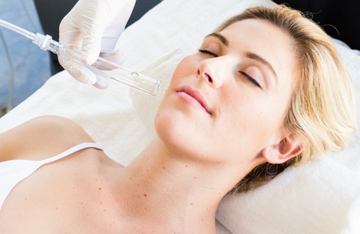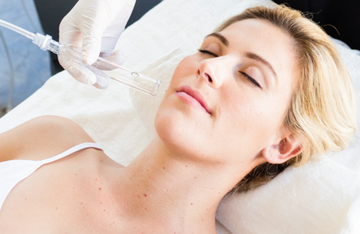 The ultimate HydraFacial experience! The HydraFacial Platinum treatment begins with a detoxification process through Lymphatic Therapy. Then it deeply cleanses, extracts and hydrates the skin while addressing specific skin concerns with the personalised booster of your choice. This treatment concludes with LED Light Therapy.
Preparation and aftercare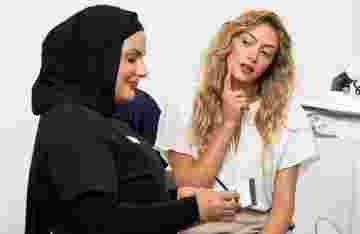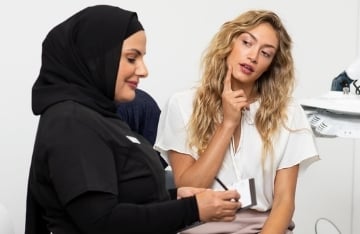 2 weeks prior to treatment:
• No Cosmetic Injectable treatments
• Avoid excess direct sun exposure
• No waxing or Laser Hair Removal/IPL treatments on the face
1 week prior to treatment:
• No depilatory use on face
3 days prior to treatment:
• Stop using active ingredients on the skin
• No Chemical Peel treatments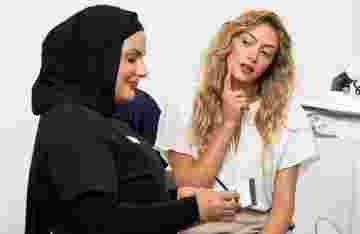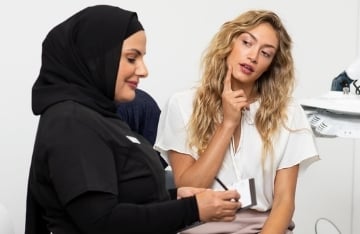 2 weeks post-treatment:
• Protect your skin from any excessive sun exposure and use SPF
• No exfoliating treatment, waxing, and using depilatories


1-week post-treatment
• No depilatory use on the face


Immediately post-treatment
• Avoid any excessive heat (saunas, hot showers etc.)
• Allow your skin to go make-up free if possible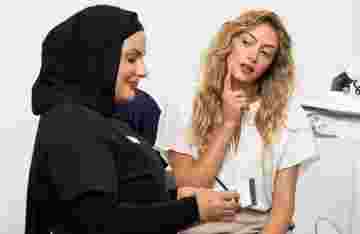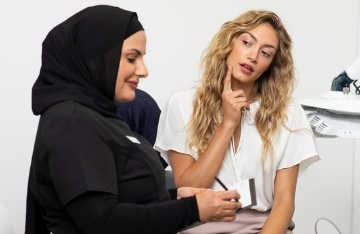 For optimum results, we recommend a minimum of 6 treatments at fortnightly or monthly intervals. Maintenance treatments will be required to upkeep results.
Top Tip:
Team our Hydrafacial with any of our professional Skin Treatments.

Safety & Technology
Using advanced technology and high-performance cosmeceutical skincare products our team highly-skilled team of Therapists is experienced in delivering best-in-class results.
Experienced Team
Our highly-skilled and experienced team of Therapists are trained in the latest technology and operate the safest machinery.
Real Results
Whatever your skin concern, we have the experience, knowledge, and professional Skin Treatments to deliver the best results tailored to your skin goals.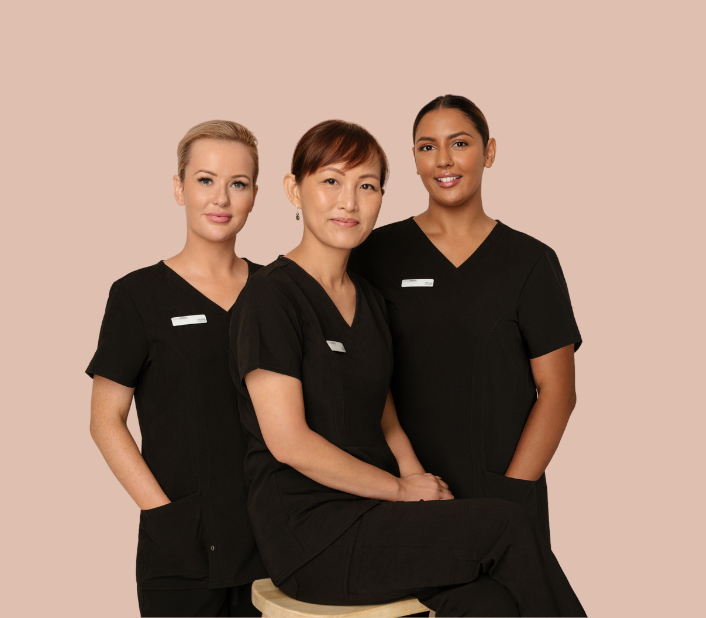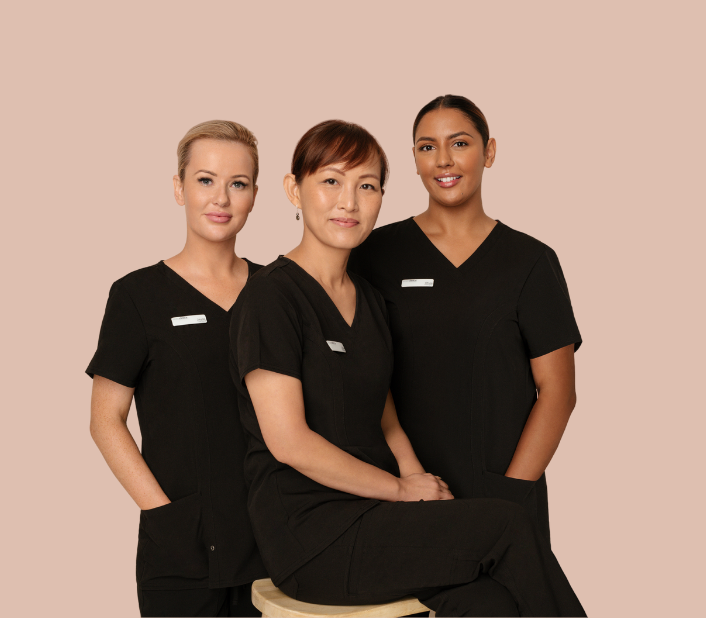 Book in a complimentary consultation
Get that glow. Professional Skin Treatments tailored to you.
Our highly-trained team of Therapists can help identify your concerns and tailor a treatment plan based on your skin goals.
BOOK NOW
What our customers are saying
"I did the HydraFacial deluxe treatment with Nadia and absolutely love the results!! Thank you Nadia"
Rana A.
"Very good and very clean. Very patient and very nice. I have booked HydraFacial for about 3 times and the treatments are very suitable for me."
Victoria
"Got a HydraFacial treatment done with Connie, my therapist. She was super gentle and explained every step to me. I'll be requesting Connie for my next session and highly recommend the HydraFacial for anyone interested. The only feed back I would give is if the clinic could dim the lights and lower the music, it would make a more relaxing environment."
Ritu G.
"Amazing service here, my skin felt amazing after my HydraFacial. Adrianna is a great therapist, made me feel so comfortable! Will not go anywhere else"
Christina W.
"My favourite place. My skin has never been glowing like this. All I needed was HydraFacial done by Adriana! Definitely recommend to anyone I know!"
Martyna N.
"Very nice and professional HydraFacial with Nikk. I really like it and recommend. "
Lamya B.
"I had a HydraFacial with Yasmin and I must say the whole experience was excellent. She took the time to explain every step and it was very insightful. I have now booked my second session! Highly recommend."
Andreya S.
"I had the HydraFacial, amazing and professional service and lovely staff! Thanks especially to Connie!"
Connie L.
"Loved my first visit here. I had HydraFacial at a very competitive cost. Yana, the aesthetician, was polite and made the experience comfortable."
Bobby R.
"Recently had my HydraFacial with this clinic and at first I was not too sure if it was really my thing, but week after my skin is glowing! Lady at the reception was lovely too, gave me couple of forms to fill, also explained the procedure in detail, thank you!"
Jen A.
"I had an anti aging HydraFacial here and my skin is still glowing a week later. This treatment left my skin feeling fresh and clear of impurities. Really modern clinic and professional staff. I will definitely come back for another one."
S. Weeramanthri
"Amazing clinic!!!!! Had HydraFacial done and you can see results straight away. My face feels glowing! Staff were super helpful and attentive, especially Tatiana! I would definitely recommend this clinic and I will be back for more treatments. Thank you!"
Carla A.
"Kirsty carried out my HydraFacial today and was professional, informative and friendly. The facial was great - my skin felt revived and clean and hours after my facial my face is still glowing! I have now booked in for a further two sessions to enhance my skin care routine - already looking forward to my next session! Highly recommend."
A. Cheung
"Wonderful experience at the clinic. Had a HydraFacial treatment, which was a very effective treatment. Lovely environment with great and welcoming staff. Highly recommended."
Patty P.
"I have had two HydraFacials at Laser Clinic UK and the service both times was amazing. The staff were very friendly and professional. Everything was explained to me during the procedure and made sure I was happy with what the lady was doing. My skin post treatment looked amazing. Would highly recommend Laser Clinic UK."
M. Zatkova
"I did the Hydrafacial Deluxe! My face feels amazing, especially as I have very sensitive face this actually made me feel good! I'm definitely coming back before my wedding!"
Maream A.
"My teenager daughter and I have had Hydrafacials, Microdermabrasion and peel treatments monthly for the last 6 months and have noticed a significant improvement in our skin. The clinic is spotless, all the staff is knowledgeable. The treatments and products are wonderful. We especially appreciate the aestheticians' probing on our other skin regimens to ensure they compliment them."
Audrey T.
"I did a Hydrafacial... I loved the procedure. I will come back next month for another one. 5 stars."
Amylee G.
"I have done HydraFacial with Miglola and she is amazing, knows about the procedure and products. Very satisfied and definitely recommend."
Madiha I.
Frequently Asked Questions
Have a question not listed below? Visit our FAQ page to find more answers and info about our complete range of laser, skin, and cosmetic procedures.
Am I suitable for a HydraFacial treatment?

The HydraFacial treatment is designed for all skin types. Even the most sensitive skin easily tolerates the HydraFacial treatment. Your Therapist can tailor specific treatment serums and/or customize the treatment for your unique skin conditions and needs.

Does the HydraFacial treatment have downtime?

There is no recovery time so you'll be able to return to your normal activities right after the treatment looking and feeling great.

What is Vortex-Fusion Technology?

The spiral design of HydroPeel® Tips, used in conjunction with the HydraFacial proprietary vacuum technology and serums, creates a vortex effect to easily dislodge and remove impurities while simultaneously delivering hydrating skin solutions.